About the office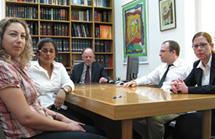 ELIYAHU BENTOVIM – LAW OFFICE AND NOTARY was founded in 1988 by Attorney Eliyahu Bentovim, upon his retirement from the civil service, after 21 years of service.
In his last position, Attorney Eliyahu Bentovim served as the Director of the Department of Labor Disputes at the State Attorney's Office.
The firm specializes in litigation, including representation and appearances before the various legal instances (the Supreme Court of Appeals, the District Courts and the Labor Courts, including all the instances thereof, and disciplinary tribunals).
In addition to the above, the services provided by the firm include all the fields of legal practice, from giving opinions to providing ongoing and in-depth legal support, on a regular basis, for the actions of our clients.
The firm's main area of expertise is in the provision of consulting services and legal representation in the field of individual and collective labor law to a broad range of clients, including the State of Israel and various statutory corporations, local authorities, companies and concerns, and workers' and pensioners' committees, as well as individual employees and pensioners.
The Firm's Clients
One of the key attributes of the firm is the diverse range of clients who benefit from its legal and professional services.
The following are included among the firm's key clients:
The State of Israel (the Accountant General's Office, the Government Companies Authority).

Local Authorities and Statutory Corporations (the Municipality of Lod, the Municipality of Kiryat Atta, the Municipality of Beer Sheva, the US - Israel
Binational Science Fund, the Israel Broadcasting Authority, the Council of Higher Education, the Municipality of Ashkelon Shore, The Financial Company, Ashkelon Shore).

Government Companies (the Israel Electric Corporation, Mekoroth, El Al, Ashot Ashkelon).

Workers' and Pensioners' Committees (the Committee of Research Employees at the Volcanic Institute, the Hadassah Employees' Committee, the Committee of Bank of Israel Pensioners).

Concerns and Companies in Israel and Overseas (Alliance Tire Company (1992) Ltd., the Jewish Theological Seminary in the USA and the Schocken Institute, Deutsche Bank, the Association of Homes for the Aging [known by its Hebrew acronym, A.B.A.] ).

Pensioners and Officers – in the private and public sector.